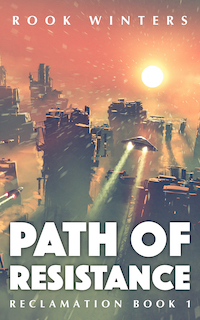 Path of Resistance (Reclamation Book 1)
Ainsley is living a double life. She works the job arranged by her collaborating father while performing clandestine acts of sabotage against the occupying Qyntarak.
In the wake of a botched op that leaves someone dead, a well-financed stranger invites Ainsley into a much more ambitious venture.
Drowning in grief and desperate for redemption, Ainsley seizes the opportunity. But as the implications of her mission become clear, Ainsley must decide whom to protect and whom she is willing to betray.
Available in paperback and ebook versions
ISBN-13: 978-1775235934

---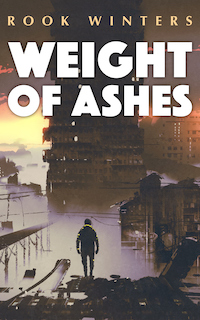 Weight of Ashes (Reclamation Book 2)
After Elle's adoptive father is killed smuggling secrets for the Reclamation movement, she takes refuge in Court's rural village. When the once tranquil life of the village is torn apart, Court and Elle find themselves embroiled in a desperate mission for which they are ill-equipped.
If they can locate people they don't know how to find and deliver intelligence they don't understand, maybe they can buy some time for the human race.
With Qyntarak hunting them, they'll be lucky just to survive. And if they succeed, it might be too late to matter.
Available in paperback and ebook versions
ISBN-13: 978-1-7752359-2-7

---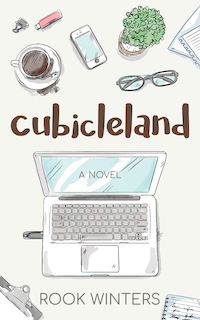 Cubicleland: A Novel
There's a story in every cubicle.
The Office meets Silicon Valley in this hilarious, heartfelt, and occasionally satirical novel about friendship, family, and life in the cubicles
Will coworkers stick their necks out for each other when their employer starts pulling out the chopping block?
Fans of Terry Fallis, Douglas Coupland, or Joshua Ferris will not want to miss this thoughtful and entertaining debut novel.
Rook Winters blends quirky personalities, 80s nostalgia, unrequited infatuation, and Silicon Valley excess to tell a story that celebrates office life while simultaneously lampooning it.
Visit Cubicleland today. We have doughnuts.
(Originally published as The Branch Office.)
Available in paperback and ebook versions
ISBN-13: 978-1-7752359-1-0